Our Digital X-Ray Technology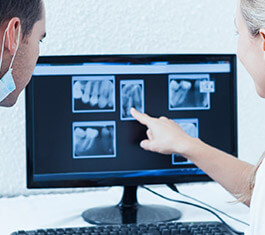 Dental technology is always evolving to include more sophisticated tools and techniques, and Dr. Brian Wakefield works hard to stay at the forefront of these developments. He and the rest of our team are dedicated to making your care as convenient and accurate as possible. With advanced digital X-ray technology, we're able to capture images of your teeth, jaws, and other important oral structures more quickly and safely than ever before. Better yet, we're able to avoid many of the pitfalls associated with traditional X-ray systems.
How do digital X-rays work?
In the past, traditional X-rays had to be developed tediously with the help of a darkroom and hazardous chemicals, and they exposed patients to a significant amount of potentially harmful radiation. Thankfully, these processes have been vastly simplified by our new digital technology. First, we'll place a small sensor in your mouth, which will emit only a tiny amount of radiation –up to 90% less than with traditional X-rays. This sensor will create an instant, detailed image of your oral structures that is immediately viewable on a convenient chairside monitor.
There are several valuable benefits associated with digital X-rays. They can be magnified, rotated, and even color-coded simply for patient education. Plus, they can be stored digitally in our computer system, which is good for the environment. Finally, we can easily and inexpensively reproduce the images so that they can be transferred to other offices if necessary.
Our team believes in providing patients with dental care that's as skilled, comfortable, and personalized as possible. Your satisfaction is our top priority! Contact our Lewisville, TX practice today if you have any questions, or if you'd like to go ahead and schedule your first appointment.