Our Preventive Dentistry Services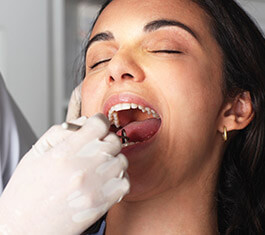 Prevention is crucial when it comes to maintaining optimal oral health for life. After all, isn't it much simpler to prevent potential problems and injuries from happening in the first place? Here in Lewisville, TX, Dr. Brian Wakefield and the rest of our team want to save you the time, cost, and pain that come with dental damage whenever possible. This is why we offer several preventive services designed to give patients protection, maintenance and peace of mind when it comes to their smile.
Our available services include:
Check-ups & Cleanings
Once you choose to become our newest valued patient, our team will first want to form a complete picture of your oral health so that we can create a personalized treatment plan addressing your concerns and creating an oral environment you are able to maintain as disease-free as possible. We can accomplish this goal through an initial, comprehensive exam, which will consist of Dr. Wakefield closely inspecting the surfaces of each tooth, your gums, your jaw, your bite, and other oral structures. Any necessary X-rays will also be taken, as well as an oral cancer screening. Once this is completed, we can sit down with you to discuss any instances of decay or damage that require attention, as well as offer advice on how to more effectively practice good oral hygiene at home. We strongly recommend that patients of all ages attend an in-depth check-up every six months, or twice a year. Due to some situations, some patients are seen at more frequent intervals for maintenance.
Even when practicing diligent brushing and flossing at home, patients can often miss key areas, allowing plaque to linger and form hard deposits known as tartar or calculus. Once this has happened, only a professional hygienist can remove these deposits. We'll thoroughly cleanse your smile during your recommended appointment every six months. If it has been more than six months since your last cleaning, we may ask that you attend a second appointment so we can ensure that all the tartar and calculus have been removed and that your gums are responding well to the improvement. Once we're finished, you'll be able to leave with a smile that looks polished and feels refreshed!
Nightguards for Bruxism
Do you suffer from constant morning headaches, jaw and facial pain, or teeth that appear worn down? You may be suffering from bruxism (also known as clenching or grinding), a common destructive habit that can lead to near-debilitating discomfort and increased risk of TMJ disorders. Even worse is that this condition typically affects patients while they're sleeping or not aware of it, making it difficult for them to stop on their own. Thankfully, Dr. Wakefield offers a solution in the form of a personalized protective nightguard that can be worn comfortably during sleep. Nightguards provide a strong barrier that minimizes the effects of grinding, protects teeth, and provides much-needed relief, often improving sleep.
Oral Cancer Screenings
Oral cancer may not be as well-known as periodontal disease or cavities, but the incidence of oral cancer is extremely common. For instance, on average, one American adult dies from oral cancer every hour, and only half of patients survive more than five years after their initial diagnosis. Even worse is the fact that 25% of cases exhibited no risk factors (tobacco use, alcohol abuse, HPV virus, etc.) beforehand. That's why Dr. Wakefield makes catching oral cancer at its earliest possible stage a priority.
Common signs that you might be at high risk or suffering from oral cancer include:
Oral tissues changing colors
Unusual or unexplained numbness, pain, or tenderness in the mouth or the lips
A sore that is slow to heal or bleeds too easily or seems to heal and recurs
White or red spots, ulcers or other sores within the mouth
Lumps, crust, or thickened areas in the mouth
Our team can serve as your first defense against this potentially deadly disease. During your regular oral cancer screening, we'll carefully inspect your soft tissues for any suspicious areas or potentially cancerous tissue. If we discover something, we will help you take the next steps towards a biopsy and more definitive diagnosis. The upside to oral cancer is that it has a high rate of successful treatment if it's caught early enough. That's why we will do everything we can to ensure that it's identified and treated as soon as possible, as well as provide counseling on preventive measures that may decrease high risk behaviors
It's never too late to start pursuing the healthy, happy smile you deserve! Our team is always here to help with comprehensive services, friendly, skilled attention, and an enjoyable office environment. Contact us today if you have any questions about our preventive care, or if you're ready to schedule your first visit. We're also happy to welcome new patients from the nearby areas of Flower Mound, Coppell, The Colony, Highland Village, and beyond.